OBERWEIS INTERNATIONAL OPPORTUNITIES INSTITUTIONAL FUND (OBIIX)
August 6, 2020
Dear Fellow Shareholder:
SECOND QUARTER AND FIRST HALF OF 2020 IN REVIEW
We are pleased to report favorable results for the second quarter and the first half of 2020. In the second quarter, the Oberweis International Opportunities Institutional Fund returned +48.66% vs. +26.44% for our benchmark index, the MSCI World Ex USA Small Cap Growth Index. In the first six months of 2020, the fund returned +12.10% vs. -5.33% for the benchmark.
Fearful of the economic challenges of the COVID pandemic, many investors were underweight equities in the second quarter. Unemployment concerns and fears of a protracted recession led investors to dump stocks in droves in March. By early April, equity outflows in the US had totaled nearly 1% of the entire equity base. According to Morgan Stanley, investors had stashed over $4.5 trillion in money market accounts. Hedge funds posted their third-lowest net equity exposure over the last ten years.
While we did not disagree with the short-term and potentially long-term challenges that the global economy would face as a result of COVID, we also saw data points indicating that, after an initial shock from the global lockdown, businesses had adapted, consumer preferences evolved and some companies found themselves favorably positioned for the new environment. In other words, change happened at a rate far faster than some of the most sophisticated investors ever imagined. At the same time, investor expectations for future growth were very depressed, enabling us to find an above-average number of what we perceived to be highly mispriced businesses.
In some instances, COVID positively accelerated business opportunities, sometimes by years. For example, we invested in a company that operates a leading platform for freelancers to connect with potential clients. COVID drove increased user adoption and accelerated brand awareness significantly, which in turn led to higher profitability and faster future growth than many expected. Similarly, we invested in two European healthcare companies that offer online sales of prescription drugs and personal care items. COVID was a boon for both, not only from increased utilization by existing customers but also from new customers transitioning online. These companies were already benefitting from regulatory changes in Germany, but COVID accelerated the trend from in-person pick-up to a more efficient and convenient online platform with direct-to-home delivery.
In addition to idiosyncratic opportunities, our portfolio benefitted from coordinated monetary and fiscal stimulus at central banks around the world. For growth investors, the present value of future cash flows is materially higher when interest rates are low and are expected to remain so. As the US Federal Reserve eased, other central banks followed suit by expanding liquidity dramatically, increasing confidence that monetary authorities would do whatever it takes to aid the economy during the pandemic and reducing the cost of capital in the process.
All told, it's important to remember that a carefully constructed portfolio of innovative smaller-cap companies can deliver markedly different results from the economy as a whole. There are always companies that are long-term, idiosyncratic, structural and secular growth winners. It is a matter of separating the wheat from the chaff. In fact, in aggregate, the companies in our portfolio had a strong earnings season, their businesses continue to do well, and their balance sheets are strong. We do not invest in the stock market broadly, but only in stocks that we deem to be exceptional ideas. While GDP growth may influence short-term results, over the long term our niche-oriented portfolio holdings tend to be driven more by their ability to execute and take market share from incumbents or create new markets than by broader macroeconomic trends.
While some may have sought to bottom-fish amid the COVID decline, we chose to stick with companies positioned to benefit from the changes. That's led to overweight positions in information technology and consumer discretionary. The COVID disruption caused rapid change in consumer preferences and behaviors, and that has led to a disproportionate number of ideas for us within these sectors. For example, one of our holdings is a payments company that permits customers to pay over time. Consumers have flocked to their interest-free 'Buy Now, Pay Later' platform as a better alternative to high-interest charges from credit card companies. Another name that has been in the fund for multiple years develops 'live' online casino games. A few years ago we saw this as a significant opportunity for market disruption, with online casinos offering a viable alternative to physical ones. Today, those trends have only accelerated as new users try out their services. These two names performed strongly in the first half of the year and represent the type of companies that have thrived during the current environment. It is important to note that COVID didn't drive our purchase decision, but it has accelerated the market disruption that we anticipated.
OUTLOOK
After strong performance for the fund in the first half, one might ask "what is next?" Looking forward, we are actually more positive on our opportunity set as we believe changes in business and consumption are still being underestimated by the rest of the market. In other words, the market is still clinging on to hope that a vaccine will cause pre-COVID life to return. While we do believe that a vaccine will arrive faster than most expect, we do not believe this will be the panacea for areas like business travel. A bigger risk is an unexpected rise in interest rates, which would put pressure on equities in general and particularly so for higher growth small-caps. Given the long-term negative effects of COVID on the broader economy, however, we do not foresee meaningfully rising interest rates any time soon.
International equities appear to be presently more attractive than US equities in the view of our team. In terms of valuations, US forward twelve month PE valuations are at the highest level relative to the rest of the world in nearly 20 years. (JP Morgan, as of July 6th, 2020). While some valuation premium should be afforded to US companies for broadly faster earnings growth, COVID levels have remained better under control in Europe, Japan and other places outside the States. Japan, which had been an area of struggle for us over the prior couple of years, produced nearly 1,000 bps of outperformance for us in the second quarter. In the first-half of 2020, we have found more ideas in Japan, leading us to be overweight for the first time in quite a while. Many international funds are underweight Japan, making already interesting inefficiencies even more pronounced.
We expect that the bout with COVID could be a lengthy one and we expect continued volatility for equities. At the same time, rapid change has brought along even more opportunities at the individual stock level and we anticipate that to continue. We have conviction that the positive trends we are seeing at the individual company level will continue to offer considerable returns for long-term investors. Indeed, we will not be surprised when we all look back in 20 years and come to understand that COVID was merely an accelerant in the multi-decade shift for the economy towards more digitalization, AI, eCommerce, robotics, data analytics and so forth. We look forward to participating in the resulting current and future investment opportunities.
PORTFOLIO HIGHLIGHTS
At the end of the first half, the fund was invested in 69 stocks in 16 countries. Our top five country weightings (portfolio weighting versus the MSCI World ex-US Small Cap Growth Index) at the end of first half were Japan (31.0% vs. 28.3%), United Kingdom (12.8% vs. 15.0%), Sweden (11.4% vs. 8.2%), China (10.1% vs. 0%), and Australia (8.4% vs. 7.5%). On a sector basis, the portfolio is overweight Information Technology (28.5% vs. 17.0%) and underweight industrials (12.9% vs. 21.2%).
Some of the top performers for the first half included: Sinch AB (SINCH SS), which returned 179.5% and contributed 391 bps; Evolution Gaming Group (EVO SS), which returned 99.5% and contributed 268 bps; and Afterpay Touch Group Ltd. (APT AU), which returned 104% and contributed 249 bps. Some of the leading detractors for the quarter included: Intermediate Capital Group Plc. (7198 JP), which returned -23.2% and detracted 162 bps; Air Canada (AC CN), which returned -66.5% and detracted 145 bps; and Redrow Plc. (RDW LN), which returned -54.3% and detracted 142 bps.
We appreciate your investment in The Oberweis International Opportunities Institutional Fund and are grateful for the trust you have shown us. Should you have any question on your institutional allocation to the fund, please contact Brian Lee, Director of Institutional Sales and Client Service, at 630-577-2321.
Sincerely,

James W. Oberweis, CFA – President Ralf Scherschmidt – Portfolio Manager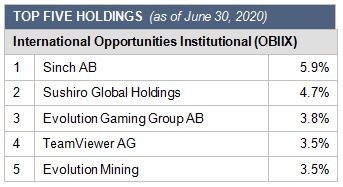 *Life of Fund returns are from commencement of operations on 03/10/14 for the Fund
** Expense ratio is the total net annualized fund operating expense ratio as of 12/31/19. The expense ratio gross of expense offset arrangements and expense reimbursement was 1.12% for OBIIX. Oberweis Asset Management, Inc. (OAM), the Fund's investment advisor is contractually obligated through April 30, 2021 to reduce its management fees or reimburse OBIIX to the extent that total ordinary operating expenses exceed in any one year 1.10% expressed as a percentage of OBIIX average daily net assets.
Performance data shown represents past performance and is no guarantee of future results. Investment return and principal value will fluctuate, so that you may have gain or loss when shares are sold. Current performance may be higher or lower than quoted. Visit us online at oberweisfunds.com for most recent month-end performance. The Oberweis Funds invest in rapidly growing smaller and medium sized companies which may offer greater return potential. However, these investments often involve greater risks and volatility. Foreign investments involve greater risks than U.S investments, including political and economic risks and the risk of currency fluctuations. There is no guarantee that the funds can achieve their objectives.
The MSCI World ex-US Small Cap Growth Index is a free float-adjusted market capitalization weighted index that is designed to measure the equity market performance of small cap growth developed markets excluding the US, with minimum dividends reinvested net of withholding tax.
Before investing, consider the fund's investment objectives, risks, charges, and expenses. To obtain a copy of the prospectus or summary prospectus containing this and other information please visit our website at oberweisfunds.com or call 800-323-6166. Read it carefully before investing.
The Oberweis Funds are distributed by Oberweis Securities, Inc. Member: FINRA & SIPC.