OBERWEIS INTERNATIONAL OPPORTUNITIES INSTITUTIONAL FUND (OBIIX)
July 22, 2021
Dear Fellow Shareholder:
SECOND QUARTER AND FIRST HALF OF 2021 IN REVIEW
In the second quarter the Oberweis International Opportunities Institutional Fund returned +7.19% vs. +5.23% for the benchmark, the MSCI World Ex USA Small Cap Growth Index. For the first half, the fund returned +6.37% vs. +7.36% for the benchmark. Since the first quarter the world was hit with Covid-19, as measured since 12/31/2019, the markets have experienced periods favorable to both growth and value, with growth outperforming in aggregate. The fund vastly outperformed during that overall period and returned +74.08% vs. +31.98% for the benchmark.
Global equities continued higher over the period as key economic data led to a reassessment of the post-pandemic business cycle and trajectory of monetary policy in the US. US consumer prices increased by 5% year over year in May, the fastest pace since August 2008 and in excess of Wall Street expectations. The Federal Reserve responded at its June 15-16 meeting with a shift to a more hawkish rhetoric. Importantly, it also appears that the recent increase in inflation is being included in the central bank's long-term inflation target. Investors interpreted this to suggest that the Fed has now adopted the role of inflation fighter, and will not permit the economy to run too hot. Consequently, the Fed Funds futures curve to June 2023 increased by 20 basis points. With the multiplier effect on growth rates from a one basis point change in short-term rates estimated at 3x to 3.5x, this implies a reduction in 2023 GDP forecast of approximately 65 basis points. In addition, the marked improvement in unemployment data that was seen in Q1, as represented by a sharp decline in unemployment claims, did not repeat in Q2. In summary therefore, over the quarter the rate of improvement in the labor market flattened out while underlying inflation accelerated and the Fed assumed a more hawkish position.
Our view on inflation remains consistent. We do not consider a sustained inflation shock to be the most probable outcome, in large part due to the disinflationary impact of technology. At the same time, given the higher than usual number of unknowns, at present we are agnostic on the near-term outlook for both inflation and economic growth. The pandemic was accompanied by an extraordinary fiscal policy response, the consequences of which are likely to extend well beyond this year. With employment data often variable, perceptions of the labor market are notoriously changeable. It would therefore not be a huge surprise if the market's reaction to this quarter's Fed meeting and economic data turned out to be too pessimistic. On the flipside, we note that the Delta variant continues to surge globally, the yield curve has flattened, credit creation in China appears to be slowing down. Macro-economic predictions are habitually challenging, but today they appear to us especially so. As a result, we have concluded that currently the most appropriate construction of the International Opportunities Institutional Fund is one of balance.
Irrespective of what happens with inflation and interest rates, however, over any meaningful time periods for long-term investors, share prices will be substantially determined by the fundamental performance of companies, which is our expertise and main focus. Many companies have seen their competitive positions significantly strengthened over the last twelve months. One such example is a company that provides student placement services to enroll in universities, as well as English language tests to international students. Prior to the onset of the pandemic, this business was investing heavily in digitizing its service and cost base, and providing universities around the world with highly differentiated data analytics on student cohorts and trends. Then Covid-19 happened, international borders closed and many students were unable to be placed into colleges outside of their home countries. Unsurprisingly, demand decreased. However, the company managed to maintain profitability while smaller competitors were materially weakened. Its relative position strengthened considerably, and the structural drivers for global students seeking English-language higher education remain in place. As borders reopen, we anticipate strong renewed student demand as well as an increased reliance of universities for this company's industry-leading services.
We continue to find what we perceive to be the very best long-term, compounding opportunities in structurally-growing businesses which operate in growing nascent markets where adoption is in its early stages. This includes companies whose growth prospects have been further accelerated by the pandemic. For example, we invested in a global meal-kit delivery provider that we believed would benefit in the near term from increased demand during the pandemic, but more importantly would be well positioned if the pandemic accelerated changes in consumer lifestyle for the long term. At the time, it seemed to us that consensus views reflected an expectation for economic collapse. However, we thought the pandemic would eventually pass and were more interested in how Covid-19 might permanently disrupt the methods by which consumers buy their food. We invested in a number of companies with disruptive business models whose adoption rates over the long term have been accelerated. Over the short run, some of those were adversely affected by the pandemic, but share prices typically reflected those challenges and enabled us to buy at attractive valuations. And on the other hand, some concepts, like meal delivery, turned out to be well positioned for both the short and long term. In conclusion, while many investors might be tempted to try to "play" short-term factor swings or time temporary re-opening cycles, we foresee long-term performance for this portfolio being driven mainly by a focus on companies with this type of idiosyncratic, structural growth.
OUTLOOK
Our outlook remains consistent with recent quarters. We are positive on our long-term opportunity set as we are confident that changes in business and consumption are still being underestimated, driven by trends that we foresaw long ago.
As the computing power of semiconductors tends to double every 18 to 24 months for the same price, in approximately 10 years we expect a 60-fold increase in computing power compared to today. Set against this central notion, our view is that betting on going backwards to the past "normal" and against these mega trends is to bet on low probability outcomes. As such trends in communication, computation, machine learning, robotics, energy generation and storage compound over time, they will likely have an enormous impact. We are interested in companies that will benefit from, and even drive, structural change to a much greater degree than is generally understood, thus leading to outperformance. The long-term success of these companies will not mainly be determined by short-term sector rotations, interest rates, inflation and GDP. Instead it will be a function of whether business models, and management teams' execution thereof, can take advantage of the opportunities from these deep underlying changes taking place in the world. Interestingly, most pundits on TV and many investors focus on the former, debating and trying to predict short-term back-and-forth sector rotations and changes in interest rates over the next few months instead of focusing on companies' fundamentals, earnings and cash flow (and therefore ultimately companies' NPVs) over the next 10-20 years. As mentioned, the latter is our core focus and expertise.
From a geographical perspective, international valuations look cheaper than US valuations and continue to represent an opportunity for investors. The chart below from JP Morgan shows that the US forward twelve-month P/E valuations, relative to the rest of the developed world, are close to a 25-year high.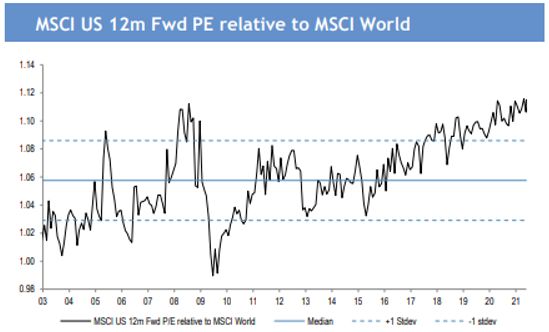 PORTFOLIO HIGHLIGHTS
At period end, the portfolio was invested in 61 stocks in 13 countries. Our top five country weightings (portfolio weighting versus the MSCI World Ex USA Small Cap Growth Index) at the end of June were Japan (29.5% vs. 25.6%), the United Kingdom (21.2% vs. 15.9%), Canada (8.8% vs. 8.2%), Sweden (8.8% vs. 9.5%), and Germany (7.7% vs. 5.3%). On a sector basis, the portfolio was overweight consumer discretionary (24.0% vs. 14.5%) and underweight consumer staples (1.7% vs. 6.9%).
Top performers for the half included: BayCurrent Consulting, Inc. (6532 JP) which returned +106.3% and contributed 425bps; Nordic Semiconductor ASA (NOD NO) which returned 57.3% and contributed 134bps; Constellium SE (CSTM US) which returned 35.5% and contributed 95bps. Leading detractors for the quarter included: Medpeer Inc. (6095 JP), which returned -49.8% and detracted 120bps; Kahoot! ASA (KAHOT NO), which returned -37.9% and detracted 91bps; BHG Group AB (BHG SS), which returned -29.5% and detracted 72bps.
We appreciate your investment in The Oberweis International Opportunities Institutional Fund and are grateful for the trust you have shown us. Should you have any question on your institutional allocation to the fund, please contact Brian Lee, Director of Institutional Sales and Client Service, at 630-577-2321.
Sincerely,

James W. Oberweis, CFA – President Ralf Scherschmidt – Portfolio Manager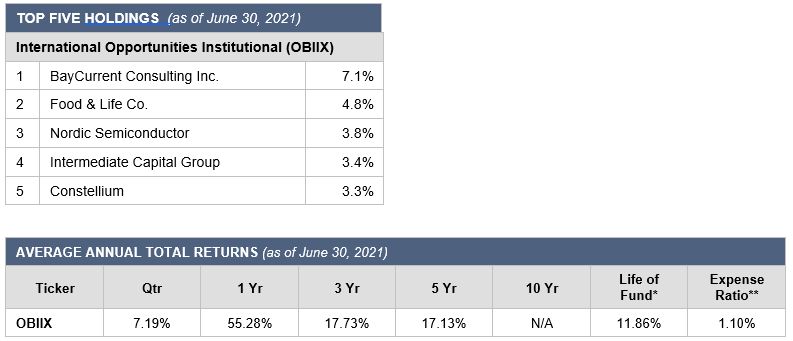 Performance data shown represents past performance and is no guarantee of future results. Investment return and principal value will fluctuate, so that you may have gain or loss when shares are sold. Current performance may be higher or lower than quoted. Unusually high returns may not be sustainable. Visit us online at oberweisfunds.com for most recent month-end performance.
The Oberweis Funds invest in rapidly growing smaller and medium sized companies which may offer greater return potential. However, these investments often involve greater risks and volatility. Foreign investments involve greater risks than U.S investments, including political and economic risks and the risk of currency fluctuations. There is no guarantee that the funds can achieve their objectives. Holdings in the Funds are subject to change.
Before investing, consider the fund's investment objectives, risks, charges, and expenses. To obtain a copy of the prospectus or summary prospectus containing this and other information please visit our website at oberweisfunds.com or call 800-323-6166. Read it carefully before investing. The Oberweis Funds are distributed by Oberweis Securities, Inc. Member: FINRA & SIPC.
*Life of Fund returns are from commencement of operations on 03/10/14 for the Fund
** Expense ratio is the total net annualized fund operating expense ratio as of 12/31/20. The expense ratio gross of expense offset arrangements and expense reimbursement was 1.13% for OBIIX. Oberweis Asset Management, Inc. (OAM), the Fund's investment advisor is contractually obligated through April 30, 2022 to reduce its management fees or reimburse OBIIX to the extent that total ordinary operating expenses exceed in any one year 1.10% expressed as a percentage of OBIIX average daily net assets.
The MSCI World ex-US Small Cap Growth Index is a free float-adjusted market capitalization weighted index that is designed to measure the equity market performance of small cap growth developed markets excluding the US, with minimum dividends reinvested net of withholding tax.