OBERWEIS INTERNATIONAL OPPORTUNITIES INSTITUTIONAL FUND (OBIIX)
January 31, 2022
Dear Shareholder:
THE YEAR IN REVIEW
Performance within the international equity market continued to be sensitive to expectations around the pandemic, inflation and interest rates. Generally speaking, our portfolio companies continued to have strong underlying fundamentals and healthy earnings growth, just as they did in 2020. Unlike 2020, however, when many of our investment holdings witnessed price/earnings multiple expansion, in 2021 many experienced multiple compression. This multiple contraction outweighed the underlying positive earnings growth, leading to a positive return for the year that trailed the benchmark. The Oberweis International Opportunities Institutional Fund returned 2.1% vs. 8.83% for the MSCI World Ex-USA Small Cap Growth Index.
A two-year perspective, which helps to average out the effects of the multiple expansion and contraction, gives us a better estimate of how the actual, underlying fundamentals and earnings drove returns during the overall 2020-2021 period. During that period, the fund returned a strong +67.09% vs. +33.78% for the benchmark.
While the rise of Omicron towards the end of the year muddied the picture of a post-pandemic rebound, the markets now seem to be looking beyond its threat. A return to pre-pandemic activity took place over the course of the year and the market narrative shifted from one focused on daily Covid-19 cases, toward fears of inflation and interest rates. As a result, the fund was hurt from a stylistic rotation toward names that are hedges against inflation and higher interest rates. Within our benchmark, the MSCI World Ex-USA Small-Cap Growth Index, the best returning sectors were energy, financials, industrials, real estate and materials. Within energy, financials and materials, equities tied directly to an underlying price index, such as oil, interest rates, lithium and steel did well. We usually tend to be underweight names within these areas given our long-standing belief that commodity prices are difficult to forecast. For example, even though we believe lithium prices are likely to rise over the coming years, this thesis alone is not usually enough for us to make an investment. We choose instead to spend the majority of our time examining companies' underlying idiosyncratic fundamentals and thus their ability to create substantial long-term shareholder value based on their long-term cash flow generation. We do recognize that shifting macroeconomic expectations and investor positioning can lead to short-term volatility. For us, however, volatility often equals opportunity when it causes the growing, durable enterprises in which we invest to trade at prices that do not reflect their long-term potential. While some of the names may respond to short-term sentiment and therefore near-term multiple compression, in due course superior fundamentals and high earnings growth tend to drive long-term returns.
OUTLOOK
We remain positive on our long-term opportunity set as we are confident that changes in business and consumption are still being underestimated. Long-term and exponential improvements in computing technologies are trends that in our view are well set to continue with very significant implications for investment outcomes. Their impact appears to be broadening in application beyond the narrow parameters of consumer internet to a diverse range of industries from healthcare to food and farming to logistics. Nonetheless they are unlikely to shape the financial headlines in a single period or quarter.
On a shorter timeframe we consider it likely that the market's earnings expectations for the year ahead are too low. Generally speaking, margins have increased through a combination of gross margin expansion and fixed cost absorption. Looked at in aggregate, we believe cost increases in raw materials and components are likely to continue to be passed on to customers. Furthermore, we expect the market's operating leverage to continue to expand, with operationally geared sectors such as technology and industrials continuing to increase their contribution to base earnings. At the same time, we remain wary of investing in businesses such as restaurants, hotels or physical retail, where labor is either a material component of the cost structure or where second and part-time jobs are prevalent.
From a geographical perspective, international valuations look cheaper than US valuations and continue to represent an opportunity for investors. The chart below from JP Morgan shows that the US forward twelve-month P/E valuations, relative to the rest of the developed world, are close to a 25-year high.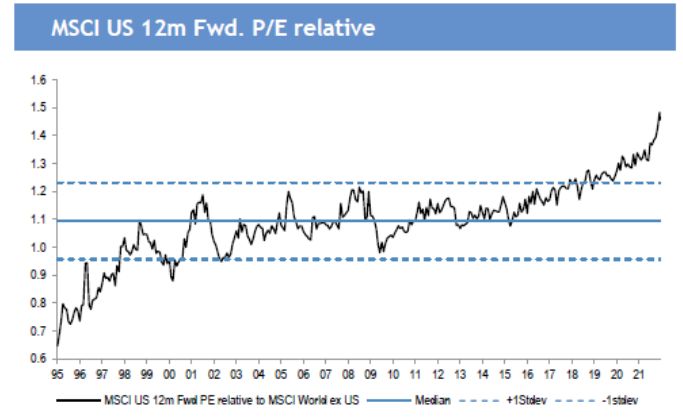 Additionally, free cash flow yields for small cap stocks in developed markets are near historical highs: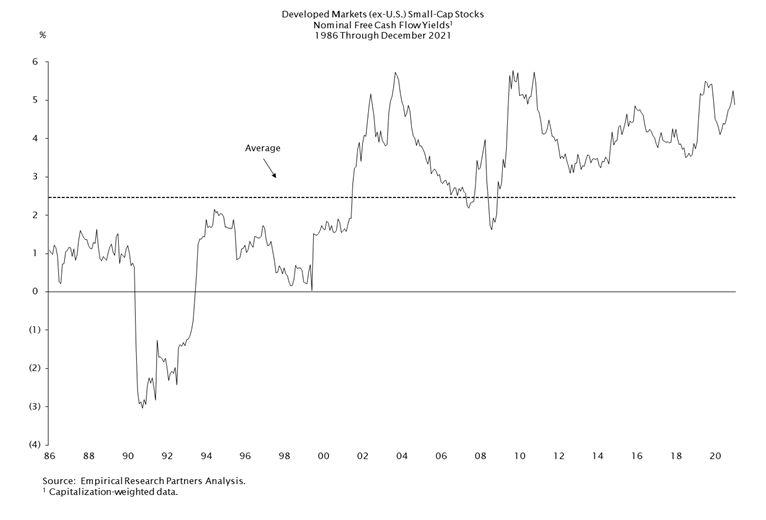 As shown in the chart, the few other times when free cash flow yields were around such attractively high levels included the period right after the global financial crisis and in March 2020. Both times transpired to be significant opportunities that provided investors with excellent returns.
PORTFOLIO HIGHLIGHTS
At year end, the fund was invested in 71 stocks in 15 countries. Our top five country weightings (portfolio weighting versus the MSCI World Ex USA Small Cap Growth Index) were the United Kingdom (23.8% vs. 16%), Japan (21.7% vs. 24.4%), Canada (11.3% vs. 8.6%), Sweden (8.6% vs. 9.1%), and Australia (6.6% vs. 9.1%). On a sector basis, the portfolio was overweight consumer discretionary (24.6% vs. 12.7%) and underweight consumer staples (0.0% vs. 6.8%) and industrials (17.3% vs. 24.1%).
Top contributors for the year include Baycurrent Consulting (6532 JP), which returned 122.1% and contributed 534 bps; Nordic Semiconductor (NOD NO) which returned 109.4% and contributed 261 bps; and Endava (DAVA US) which returned 118.8% and contributed 137 bps. The largest detractors in 2021 include IR Japan (6035 JP), which returned -62.4% and detracted 175 bps. Base (4477 JP) which returned -57.3% and detracted 164 bps; and MedPeer (6095 JP) which returned -64.1% and detracted 158 bps.
On behalf of the entire team at Oberweis, thank you for investing in the Oberweis International Opportunities Institutional Fund. If you have any questions about your account, please contact shareholder services at (800) 245-7311.
Sincerely,

James W. Oberweis, CFA – President Ralf Scherschmidt – Portfolio Manager
MANAGEMENT DISCUSSION ON FUND PERFORMANCE
MARKET ENVIRONMENT
Global equities returned 21.82% in 2021, as measured by the MSCI World Index. Global small-caps, as measured by the MSCI World Small-Cap Index, underperformed larger caps but still performed strongly in absolute terms, returning 15.75%. Foreign small-caps underperformed U.S. small-caps, as evidenced by the 11.14% return on the MSCI World Ex-USA Small-Cap Index compared to the 19.11% for the MSCI USA Small-Cap Index. Internationally, small-cap value equities outperformed small-cap growth by 444 basis points, with the MSCI World Ex-USA Small Growth Index returning 8.83% versus 13.27% for the MSCI World Ex-USA Small-Cap Value Index.
DISCUSSION OF THE INTERNATIONAL OPPORTUNITIES INSTITUTIONAL FUND
The International Opportunities Institutional Fund underperformed its benchmark in 2021, returning 2.1% versus 8.83% for the MSCI World Ex-USA Small-Cap Growth Index. The portfolio benefitted from stock selection in the United Kingdom and Norway while stock selection in Sweden and Switzerland detracted from performance. On a sector level, the portfolio benefitted from stock selection in Information Technology while performance was negatively impacted by stock selection in Health Care and Communication Services. At the stock level, Baycurrent Consulting (6532 JP), Nordic Semiconductor (NOD NO) and Endava (DAVA) were among the top contributors to performance; IR Japan (6035 JP), Base (4477 JP) and MedPeer (6095 JP) were among the top detractors. OBIIX Holdings
For current performance information, please visit www.oberweisfunds.com.

Performance data shown represents past performance and is no guarantee of future results. Investment return and principal value will fluctuate, so that you may have gain or loss when shares are sold. Current performance may be higher or lower than quoted. Unusually high returns may not be sustainable. Visit us online at oberweisfunds.com for most recent month-end performance.
The Oberweis Funds invest in rapidly growing smaller and medium sized companies which may offer greater return potential. However, these investments often involve greater risks and volatility. Foreign investments involve greater risks than U.S investments, including political and economic risks and the risk of currency fluctuations. There is no guarantee that the funds can achieve their objectives. Holdings in the Funds are subject to change.
Before investing, consider the fund's investment objectives, risks, charges, and expenses. To obtain a copy of the prospectus or summary prospectus containing this and other information please visit our website at oberweisfunds.com or call 800-323-6166. Read it carefully before investing. The Oberweis Funds are distributed by Oberweis Securities, Inc. Member: FINRA & SIPC.
*Life of Fund returns are from commencement of operations on 03/10/14 for the Fund
** December 31, 2021. Expense ratio is the total net annualized fund operating expense ratio. The expense ratio gross of expense offset arrangements and expense reimbursements were 1.09%. Oberweis Asset Management, Inc. (OAM), the Fund's investment advisor is contractually obligated through April 30, 2022 to reduce its management fees or reimburse OBIIX to the extent that total ordinary operating expenses exceed in any one year 1.10% expressed as a percentage of each Fund's average daily net assets.
The MSCI World ex-US Small Cap Growth Index (Net) is a free float-adjusted market capitalization weighted index that is designed to measure the equity market performance of small cap growth developed markets excluding the US, with minimum dividends reinvested net of withholding tax.