OBERWEIS INTERNATIONAL OPPORTUNITIES INSTITUTIONAL FUND (OBIIX)
January 29, 2019
Dear Shareholder:
Thank you for your investment in the Oberweis International Opportunities Institutional Fund (OBIIX). This fund is managed by a team led by Ralf Scherschmidt and seeks to invest in small and mid-cap companies primarily outside of the United States which are experiencing positive fundamental changes not yet fully reflected in market prices.
THE YEAR IN REVIEW
2018 was a difficult year for investors. Stocks, bonds, gold and oil all declined as investors grew increasingly fearful of the impact of tariffs and a prolonged US-China trade war, resulting slowing growth, rising interest rates, and tighter monetary policy. In the fourth quarter, investors became so concerned that they reduced equity exposure late in 2018 at the most frantic pace since the end of 2008, right around the stock market bottom.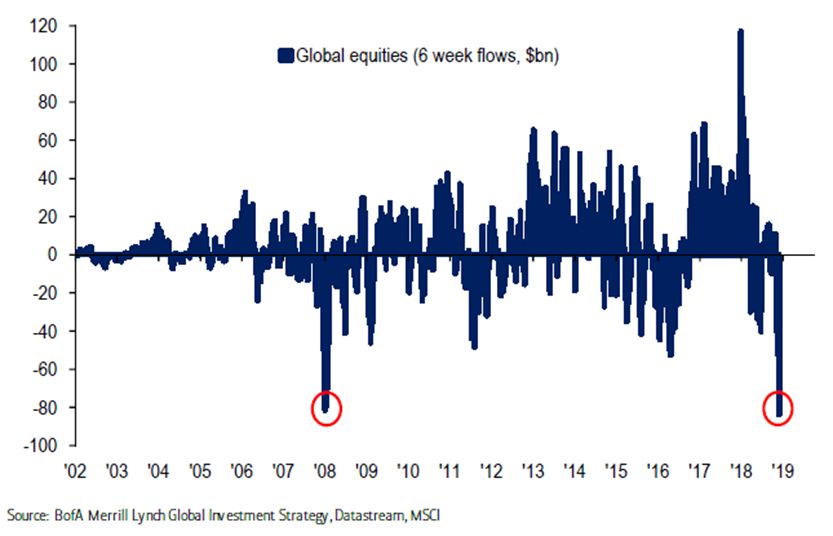 As one might expect, this type of environment can be challenging for our team in the short-term, as we invest in small-cap companies with valuations based primarily on misunderstood future earnings. When the market focuses too much on near-term earnings rather than long-term earnings, our strategy faces short-term headwinds. We expect these difficult periods to occur occasionally, but fortunately, they have been the exception rather than the rule. As fear spread during the fourth quarter, valuations within our asset class notably contracted. The average P/E of our benchmark index dropped from 20.0x at the end of 2017 to 16.1x at the end of 2018. During times of fear and volatility, it is not unusual for the market to over-discount risk for international small cap growth stocks. In our experience, out-of-favor periods for our process often lead to attractive valuations, which can set the stage for unusually favorable purchase opportunities, which in turn improves the odds of favorable returns once the headwinds subside.
For the year, the Oberweis International Opportunities Institutional Fund returned -23.91% versus – 17.78% for the MSCI World ex-USA Small Cap Growth Index. In the fourth quarter, the Fund returned – 22.20% versus -17.49% for the benchmark. The deficit in this year's return relative to our benchmark was primarily attributable to unfavorable stock selection in Japan and Canada. Within Japan, data from SMBC Nikko shows that companies with negative earnings revisions outperformed those with positive revisions. This is the antithesis of our strategy, which seeks companies reporting positive earnings surprises which we believe are materially misunderstood and undervalued on future earnings. As a result, our holdings should naturally experience positive revisions, and over the long-term our experience shows that such securities tend to outperform the market. In the short-term, however, this is not always the case. In these instances, so long as our holdings continue to report good earnings in accordance with our philosophy, we will continue to hold them. In terms of positive contribution, France was our best contributing country thanks to favorable stock selection. At a sector level, healthcare was our largest detractor while financials was our largest contributing sector.
Additionally, after being cautious on economically sensitive companies over the course of 2018, given the uncertainty over tariffs and a trade war, we found and owned instead more companies exposed to secular themes. These stocks can be cheap and undervalued on future earnings, but may look more expensive on current-year earnings. During environments like 2018, when the market becomes overly focused on near-term earnings, many of these companies sold off as the market gave less weight to future earnings. Ultimately we believe these companies will earn far more than what the market is expecting, therefore making valuations attractive.
OUTLOOK
Our research indicates that there have been only two other times in the last decade in which valuations for international small-caps have been as low as today. As challenging as difficult economic periods may be, they often turn out to be attractive times to buy international small-cap stocks. Periods of high risk aversion often correlate to below-average stock valuations (as is the case currently), and we see an above-average investment opportunity today. According to data supplied by Empirical Research Partners, our universe of developed world ex-US small-cap equities trade at the cheapest valuations since January 2012 and about 30% below the long-term average. Of course, no one can predict the future and it's difficult to assess how long it might take for valuations to revert closer to historical means.
From a macro perspective, while we hope that some sort of positive trade resolution takes place between the U.S. and China, we are not holding our breath. We also expect challenges from slowing growth in China, a more tepid housing market in the U.S., balance sheet reductions by major central banks and various political uncertainties globally to weigh on markets from time to time in 2019. However, we see many of these risks as discounted and therefore see an opportunity for long-term investors to take advantage of a favorable entry point.
We appreciate your investment in The Oberweis Funds and are grateful for the trust you have shown us with your valuable investments. If you have any questions about your account, please contact shareholder services at (800) 245-7311. Thank you for investing with us in The Oberweis Funds.
Sincerely,

James W. Oberweis, CFA Ralf Scherschmidt President Portfolio Manager
MANAGEMENT DISCUSSION ON FUND PERFORMANCE
MARKET ENVIRONMENT
Global equities returned -8.71% in 2018, as measured by the MSCI World Index. Global small-caps, as measured by the MSCI World Small-Cap Index, returned -13.86%. U.S. small-caps outperformed International small-caps, as evidenced by the -18.07% return on the MSCI World ex-USA Small-Cap Index vs. -11.01% for the Russell 2000 index. Non-US small cap growth companies slightly outperformed Non-US small-cap value companies. The MSCI World ex-USA Small-Cap Growth Index return -17.78% versus -18.38% for the MSCI World ex-USA Small-Cap Value Index.
DISCUSSION OF THE INTERNATIONAL OPPORTUNITIES INSTITUTIONAL FUND
The International Opportunities Institutional Fund returned -23.91% versus -17.78% for the MSCI World ex-USA Small Cap Growth Index. The portfolio was negatively impacted from adverse stock selection in Japan, and Canada, offset by positive stock selection in France. On a sector level, the portfolio benefitted from positive stock selection in Financials, and was negatively impacted by negative stock selection and an underweight in Health Care. At the stock level, Burford Capital Ltd. (BUR LN), DA Consortium Holdings Inc. (6534 JP), and Ubisoft Entertainment SA (UBI FP) were among the top contributors to performance; Japan Investment Adviser Co. Ltd (7172 JP), Keywords Studios Plc. (KWS LN), and Aurelius Equity Opportunities SE & Co KGaA (AR4 GY) were among the top detractors.
At year-end, the portfolio was invested in 81 stocks in 16 countries. Our top five country weightings (portfolio weighting versus the MSCI World ex-US Small Cap Growth Index) at the end of the quarter were Japan (18.9% vs. 28.7%), the United Kingdom (16.9% vs. 16.6%), Australia (11.5% vs. 6.7%), Canada (11.1% vs. 8.7%), and Sweden (7.4% vs. 5.3%). On a sector basis, the portfolio is overweight information technology (25.4% vs. 13.8%) and underweight consumer discretionary (7.2% vs. 14.5%) OBIIX Holdings
For current performance information, please visit www.oberweisfunds.com.
*Life of Fund returns are from commencement of operations on 03/10/14 for the Fund
** December 31, 2018 data. Expense ratio is the total net annualized fund operating expense ratio. The expense ratio gross of expense offset arrangements and expense reimbursements were 1.11%. Oberweis Asset Management, Inc. (OAM), the Fund's investment advisor is contractually obligated through April 30, 2019 to reduce its management fees or reimburse OBIIX to the extent that total ordinary operating expenses exceed in any one year 1.10% expressed as a percentage of each Fund's average daily net assets.
Performance data shown represents past performance and is no guarantee of future results. Investment return and principal value will fluctuate, so that you may have gain or loss when shares are sold. Current performance may be higher or lower than quoted. Visit us online at oberweisfunds.com for most recent month-end performance. The Oberweis Funds invest in rapidly growing smaller and medium sized companies which may offer greater return potential. However, these investments often involve greater risks and volatility. Foreign investments involve greater risks than U.S investments, including political and economic risks and the risk of currency fluctuations. There is no guarantee that the funds can achieve their objectives. Holdings in the Funds are subject to change. Before investing, consider the fund's investment objectives, risks, charges, and expenses. To obtain a copy of the prospectus or summary prospectus containing this and other information please visit our website at oberweisfunds.com or call 800-323-6166. Read it carefully before investing. The Oberweis Funds are distributed by Oberweis Securities, Inc. Member: FINRA & SIPC.
The MSCI World ex-US Small Cap Growth Index (Net) is a free float-adjusted market capitalization weighted index that is designed to measure the equity market performance of small cap growth developed markets excluding the US, with minimum dividends reinvested net of withholding tax. MSCI World Index (Net) is a free float-adjusted market capitalization index that is designed to measure developed-market equity performance throughout the world. The MSCI World ex USA Small Cap Value Index is based on a traditional market cap weighted parent index, the MSCI World ex USA Small Cap Index, which includes small cap stocks across 22 Developed Markets (DM) countries (excluding the US). The MSCI World ex USA Large Cap Growth Index captures large-cap securities exhibiting overall growth style characteristics across 22 Developed Markets (DM) countries and 23 Emerging Markets (EM) countries. The MSCI World ex USA Small Cap Value Index reweights each security of the parent index to emphasize stocks with lower valuations. Index weights are determined using fundamental accounting data—sales, book value, earnings and cash earnings—rather than market prices. The S&P 500® Index is a broad based unmanaged index of 500 stocks, which is widely recognized as representative of the equity market in general.